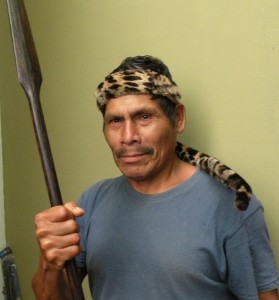 Part I precedes this, you may want to read that first – click here.
… what seemed like my for sure 'salvation', was only a mirage. The guys continued to half drag & carry me up to the Police truck, but the crowd had quickly grown to about 50 and they were not just going to hand me over. When the police got out of their truck, they were quickly surrounded and afraid for their lives. They are Ecuadorians in Shuar territory with a long history of fear and distrust between them. Not long ago, four policemen showed up in a nearby village to quell a disturbance and were all shot. The young couple who I had lunch with earlier that day, Umberto & Georgina, rushed up on the scene. They both fought through the crowd to assure them that I was not there to cut-off any heads, nor to buy any, but with a mob, the truth doesn't matter much. Georgina was 6 months pregnant, but even so, she was knocked around and shoved away but she was relentless in my defense. With her latched on my arm screaming for my release, four guys began to drag me away from the police and up into the jungle. I snuck a look behind and saw a wild eyed elderly man following with a machete to my back. I later learned that he was the father of the three brothers who had already struck me.
All the things I've ever heard about your life 'flashing' before your eyes in moments like this, well it is somewhat true. Of course I was thinking of my wife and 3 children and that I'd really like to see them again. I had a little conversation with my brother Terry. Something like, "well bro, looks like I may be seeing you a little quicker than expected". (Terry died in a motorcycle accident this past May while returning from a fund raiser that provides motorcycles to pastors & missionaries in the jungle. He was hoping to hand deliver some next summer to Ecuador.) Was this really how it was going to go down – was this it? I tried not to think about what it might feel like, then a deep peace surrounded me. (Ashley said she felt the same.) It was okay. All that my Mom & Dad & family & friends & life experiences had poured into me for 44 years, now made perfect sense. I felt a sense of purpose and was as prepared as I could be if I was in fact, about to step into the unknown. Then, just at the moment of this reckoning, one of the guys says something like, "no, let's do this in front of everybody, let's make a spectacle of him". I wasn't sure what he meant by that, but they turned me around and pushed me down the hill towards the crowd & police truck.
I put my back up against the truck. The crowd was shouting at the officers, it was still very chaotic. And then, for the first time in over an hour, I had separation – no one was touching me, so I jumped in the backseat of the police truck and locked the doors. The officers were eventually able to get in and about 15 Shuar jumped in the back. We started down the mountain towards Sucua with an ever growing crowd following behind chanting, "this gringo is cutting heads"! The drive to the police station took us right past the Shuar Federation headquarters which is just a few blocks from our house. People came streaming out in pursuit as the chanting grew louder. Before the truck came to a complete stop, the officer in the back with me opened the door and said RUN!
I never looked back as I ran through the police station directly into a cell which is actually outside. They say more than a hundred gathered out front and it sounded like they could have easily came right in. I hunkered down near the 'honey hole' in the corner, it was the only place not visible from the outside. After about 45 minutes the mob noises lessened and I heard calm voices outside my cell. There stood our Pastor, several officers, a lawyer, and the Chief of the Shuar Federation ordained in a feather headdress. He shook my hand through the bars and appeared friendly. Then the other mob showed up, a mob of friends and church family, both Ecuadorian & Shuar. They lined the front of the police station and soon outnumbered those opposed, who then began to disperse. Ashley had gone directly to the hospital looking for me. Apparently, witnesses who saw the strikes just assumed I had been cut and told her to go straight there. I had no way of calling her to let her know I was okay and to tell her not come to the jail. I didn't want anyone in the crowd to see her, but she did find me and it worked out fine. Some friends brought her home and I stayed in the cell for the night. (a sleepless night in jail is good for the soul!) Several people brought me food and drinks and a blanket that I spread out on the floor.
At one point, a policeman came to the cell and said a bunch of Shuar wanted to see me. I was relieved of course to see that it was Pastor Eduardo and about 20 friends from the same village where the mayhem took place. Each of them tearfully greeted me and then prayed fervently with their hands extended through the bars. It was a powerful moment, a 'snapshot' that is permanently burned into my brain, one that I wish I could share with you.
The next day started with coffee at 5AM brought by a dear man named Pacheco, he was the very first person Joil met here in Sucua over 13 years ago. Later that morning, the Police Chief called me into his office to ask me about all these different people who came to my aid. It was an honor to explain to him that what he saw was The Church in action, strong and healthy, diverse and dedicated, just like the days of Acts. Already, God was making good out of a bad situation. I spent the next day in the Police Station and before some lawyers and judges to give testimony. After 24 hours, I was allowed to go home. Walking into the embrace of my wife & kids was one of the greatest feelings in my life.
Of course I learned much from this wild ride and I'll allow you take away from it what you need, but here are two points that i wish to underscore:
#1 – There's a verse in the Bible that I've heard my Father inlaw recite a couple hundred times, "… be wise as serpents and innocent of doves." We can't allow life's tough experiences to harden our hearts, but instead, the hard experiences need to toughen our hearts. Jesus took on an 'impossible' assignment, to love, live, & die for a people who he knew would turn on him. He loved (loves) unconditionally, and obviously wise as to how to love with the resolve to never quit.
#2 – Our trust in God is really all we've got. My physical body was not fast enough or strong enough to get me out of this situation. Those 'angels' that bought me more time during the scuffle could not stop it. Even the arrival of the Police did not bring an expected resolve. Only one thing is certain in life – God the Creator of life. We must trust Him regardless of what comes our way. Running away is not an option.
Now go have yourself an adventure! (BTW – the tough looking guy in the photo is my friend Pastor Eduardo having fun posing!)